Sorry Members Only Insider Access Is By Invitation Only & Enrollment Is Temporarily Closed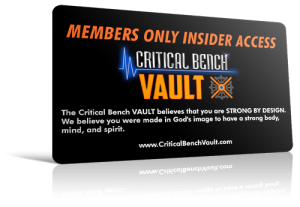 Includes Your Workout of the Month
If you're anything like me, following the same program for 4, 5 or 6-months straight is at best, tedious and boring. In fact, for me 30-days is the sweet spot or perfect length for a routine before I'm ready to move on to something different.
That's why every single month Critical Bench Vault insiders will get a brand spanking new Workout of the Month. Each monthly workout will be a progression from the previous month with a focus on our goals of gaining muscle, increasing strength and staying lean and healthy. ($97 Value)




Private Forum
The exclusive members-only private forum gives you direct access to me and my team of trainers and pros. The forum is a place where guys like you and I that are determined to achieving our goals can share ideas and keep each other accountable.
This unique community is designed to be a place where we can follow each others training logs, share our successes and surround ourselves with other like-minded dedicated powerbuilders. As a preferred member you definitely do not need to pay my usual $197 per hour rate to get your questions answered. ($197 Value)
Training Videos
Perfect your technique on the most productive exercises with new, never before seen tricks and tips to explode your gains. Post your own videos and have them critiqued by me and other fitness pros.
Videos range in length from 5-minutes to full blown 45-minute movies. Get access to my network of world famous coaches and trainers. Each video will feature new topics and experts to keep you motivated and growing mentally and physically. ($77 Value)
MP3 Expert Interviews & Coaching Calls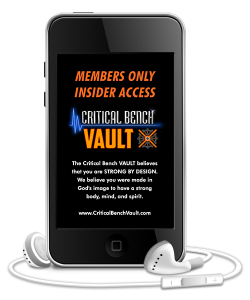 Instantly download interviews with me and other muscle and strength experts. Listen to them online or download them to your iPod on the way to the gym. We'll also be doing periodic coaching calls where you get to ask your most burning questions and get a personalized solution from people that are "usually" unreachable.
Plus you'll get to listen in on teleseminars as we expose the truth when it comes to strength, fat loss, bodybuilding, fitness, nutrition and even supplements. ($67 Value)

Just The Tip Of The Ice Berg!

Not only will you get the chance to purchase other products for half off but you'll also get discounts and coupon codes from sites where you're probably already shopping. Easily pay your monthly membership with this savings alone.
As you probably know I'm always learning and traveling to meet with experts and attend seminars.
If you'd rather save money by staying home I'll make my notes from these closed door events accessible to you as well. I got your back!
Other membership content includes unpublished articles and Q&A videos as well as chances to win tshirts and be featured in the member spotlight area. This powerbuilding community is all about getting you bigger, stronger and leaner so if there's something else that will help you just let me know and we WILL hook it up for you. ($97 Value)