You Are Just A Click Away From Accessing Your Purchase
You have automatically been registered for your 14-Day Trial of the Critical Bench Vault which is the members only site you are currently on. Your credit card statement will show a charge from CLKBANK*COM
Your login information has been sent to the email you used when you purchased Massive Muscle Pumping.
Important Message:
You will receive two emails.
The first email will come from "Critical Bench Vault" with the subject "Welcome to the Critical Bench Vault". This email contains your username and password for the site and the link to the download page to access Massive Muscle Pumping. After logging in the first time you can change this password if you want on the "My Profile" page.
The second email will also come from "Critical Bench Vault" but the from address will be cbvault@aweber.com. The subject will be "Confirm your subscription."
You MUST click the confirm link in this email in order to get email updates about new content that is being released to you in the members area. This has nothing to do with billing and is only used to notify you of new videos, workouts, mp3s and other cool stuff that you'll be getting access to every week.
You don't need to save this page, I'll email you all this information so you have it, but it would be a good idea to create a folder in your inbox called Critical Bench Vault to stay organized. Oh and whitelist or make sure emails from the "Critical Bench Vault" don't go to your spam folder. Add mike@criticalbench.com and cbvault@aweber.com to your address book.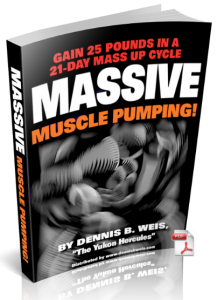 Go check your email and see you back here in a few seconds. If you have any concerns or issues with access please email sales@criticalbench.com for customer support.
Welcome to the premier powerbuilding community dedicated to getting you bigger, stronger and leaner than ever before!
Keep training hard,

Mike Westerdal
CriticalBench.com
CriticalBenchVault.com